The Top Ten Famous Authors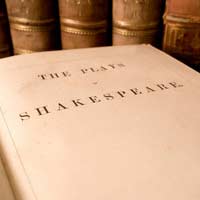 There are some authors with whom every writer should become acquainted. Many have long-ago shed "this mortal coil" (so sayeth number one, below), while others are still living and producing interesting works that keep bookstores afloat.
Obviously, your tastes will differ from others'; however, in the interest of giving you a starting point, we've arranged a top ten famous author listing. If you're not familiar (or only a tad familiar) with any of the writers below, it's time to head to your nearest library.
1. William Shakespeare
Ah, The Bard. This "Renaissance Man" was truly prolific (though if you believe some skeptics, he never existed at all, was the pseudonym for someone else or was perhaps the moniker under which a group of authors published.)
Chances are strong that you've read or seen at least one of his plays, but if it's been a while since you perused a copy of "The Tragedy of Hamlet" or "Macbeth", it's time to reacquaint yourself with this master of language and storytelling.
2. George Orwell
True, Orwell (whose real name was Eric Arthur Blair) isn't everyone's taste, especially those who do not share his views on totalitarianism.
But "Animal Farm" and "1984" are exemplary novels that truly get the reader to think more about politics, society and culture.
3. J.K. Rowling
Like her or not, Ms. Rowling has a style of writing that has launched her into the annals of literary history. Her Harry Potter books have won awards not only for their imagination but also for their strong prose.
Will she secure a spot in a list of famed authors 100 years from now? Only time will tell - but if you haven't yet journeyed into the world she created, it's time.
4. Kurt Vonnegut
Kurt Vonnegut, who passed away not long ago, penned both short stories and novels, inviting readers into his sci-fi realms with modern-day undertones.
"Slaughterhouse-Five" is one of his most internationally known books, though Vonnegut has many other works to offer the reader.
5. Virginia Woolf
Virginia wolf had a unique passion for the written word and enjoyed literary success and accolades for her many works, including "To the Lighthouse", "Mrs. Dalloway" and "A Room of One's Own."
Some have heralded Woolf as a "feminist" before the invention of the word; certainly, her popularity among women and academicians seemed to grow in direct correlation to the feminist movement of the late 1960s.
6. Ernest Hemingway
Like so many of his contemporaries (including the aforementioned Woolf), Hemingway dealt daily with depression. Yet his writings did not suffer as did his body and mind.
Though he's been called somewhat of an acquired taste, if you're just beginning your Hemingway adventure, start with "The Sun Also Rises" or "A Farewell to Arms. You may also be interested in his shorter pieces.
7. William Faulkner
Faulkner's "The Sound and the Fury" and "As I Lay Dying" are two of the most read of his pieces. But please don't stop there.
Your understanding of this Mississippi, United States born writer can only increase the more you get to know about him as well as his southern-influenced literary style.
8. Ayn Rand
Ayn Rand is proof that one person can make an enormous splash through the power of his or her written words. A Russian-born writer who immigrated to America, Rand held back nothing and her writing clearly shows her passion.
Truly, "Atlas Shrugged" and "The Fountainhead" are mainstays of any book collection. The time you devote to reading them will pale in comparison to the education you receive as a result.
9. James Joyce
Did you read "Ulysses" in school or while at university?
Plenty of students did, but most would do well to revisit Joyce's most renowned work. Time will not have changed the words, but it makes all the difference in the interpretation.
10. J.D. Salinger
"The Catcher in the Rye" is one of those novels that's unforgettable. For its time, it was a bit racy; however, chances are good that unless you've been living under a rock, you'll find it tamer than those who read it in first-runs.
Salinger manages to capture the essence of an era and weave it into a story that has stood the test of time.
You might also like...
Bro where's the guy who made Cat in the Hat
Hi santosh
Santosh
- 24-Sep-23 @ 5:23 PM
Where is the guy who wrote Winnie the Pooh? Or Pokémon? Everyone knows Pokemon right so it must be the best because we know it? Where is Kim Kardashian? Everyone knows her and her words so her words are good writing right?
JQI428385
- 24-Apr-23 @ 6:48 PM
I want importance of author according to 4th unit in engineering english
Chinny
- 24-Feb-23 @ 5:32 PM
Oh, so Mark Twain never existed? Also, what about Arthur Conan Doyle?
Markus
- 10-Jul-22 @ 4:25 PM
Mujhe book reading ka bahut hi jyada sok h
Annu raja
- 12-Jun-22 @ 4:58 AM
To be honest, apart from JK Rowling I didn't even know the other authors existed. But this list has to get with the times. The most famous authors include JK Rowling (Of course!!!!!!) Jeff Kinney(Diary of a Wimpy Kid) , Rick Riordan(Percy Jackson, Kane Chronicles) Eoin Colfer(Artemis Fowl) Ron Roy (maybe)(A to Z Mysteries)and Rachel Renee Russel ( Dork Diaries!!!!) You guys seriously need to update this list
Hermione Granger
- 16-Sep-21 @ 7:33 PM
I am anxiously waiting to publish a HOT STORY OF SYSTEM, who turned the civilian girls into luxurious call girls. But no press is allowing this story ! Although, it's a true story and unknown to every readers, precautions must be kept while reading due to the power of exact system as they already prepared the vice-versa fake patches for every phrases. No need for panic and social gatherings also !
shivi
- 25-Jul-21 @ 8:18 PM
Idk what about… Tolkien. Arguably one of the greatest fantasy series ever (LoTR) No, no one?
Mick
- 14-Jun-21 @ 3:16 AM
WHERE IS STUART GIBBS!? HAS NO ONE EVER READ THE FUNGUNGLE SIERES!??THE SPY SCHOOL SCHOOL SIERES!?DOES EVERYONE KNOW WHAT I'M TALKING ABOUT?
Akito da Dancer
- 20-Nov-20 @ 5:32 PM
This list is so anglo centric as to be laughable.The remarks that accompany their names are less than informative; consider Ayn Rand's entry. Her "philosophy" ishighly contested. Not a word about that in the blurp.
igor
- 26-Jul-20 @ 3:27 AM
Is this suitable for children? - I don't think so . . .
Someone
- 30-Jun-20 @ 7:26 AM
Hold on a sec! Where on earth is RICK RIORDON !!???? Have no one here has read his books? Percy Jackson? Magnus Chase? Carter? woah man...Get a Book.... :(
Percy Fan (Duh)
- 24-Jun-20 @ 12:31 PM
Hi i have done so many Television Shows and films i have articles of news. Can anyone help me to wrote article on wikipedia
Ajay Kumar
- 13-May-20 @ 8:31 AM
Philip Pullman? scott f. fitzgerald? harper lee? where are the famous authors????????
geofrnd
- 11-May-20 @ 2:35 PM
Where is roald dahl? He is a famous children book writer including matilda and charlie and the chocolate factory!
Sarina
- 6-May-20 @ 9:47 AM
Where is the king of horror, Stephen King!? His books are horrifying, interesting, and very well - written. Include him, not just people who are to old that they couldn't evenget their photo taken!
Jackson Robert Scott
- 25-Mar-20 @ 1:44 PM
Really, I know the authors on this list are good, but at least you should include some others. Like, for example, Roald Dahl or something.
I don't know
- 19-Feb-20 @ 1:40 PM
Iam rahma iam 17 years old Iam litrature women like tobe famous litrature writes ofthis world iam writting beautiful poem
Ruuxi
- 10-Jan-20 @ 7:49 AM
It's all a matter of opinion, they're not sprinters. Anyway, Patrick O'Brien should be there and the guy that wrote Anna Karenina,though I only got half way through it.
Thewhitespike
- 5-Jan-20 @ 2:04 PM
AND WHY THE HELL IS ERIC WALTERS NOT ON THIS LIST lmao
murderwoolf
- 4-Dec-19 @ 2:18 PM
im just tryna write an assessment for a author and this is what i get. XD
murderwoolf
- 4-Dec-19 @ 2:17 PM
I was wondering where authors like C.S Lewis, J.R.R Tolkien, Roald Dahl, Enid Blyton and some other very famous authors are?!
Goughy
- 28-Nov-19 @ 1:43 AM
Where is J.R.R Tolkien? He is one of the most celebrated author ever. I understand some choices but 90% I've never heard of. Just wanted to complain a bit.
Ur mom
- 22-Oct-19 @ 11:49 AM
Why is it considered appropriate in today'ssociety to verbally hit the roof, when someone doesn't agree with someone else's opinion? I am starting to long for different days when a conversation, opens a door to further conversation, a new author to look at, a new series to read...the verbal and sometimes physical fighting are exhausting.
WeetsieSue
- 19-Oct-18 @ 11:36 PM
Joyce Carol Oates. Capote. Philip Roth. King (of course) John Grisham. Mo Yan. Toni Morrison. Jean-Paul Sartre. Palahniuk. Walter Mosley. These writers should be on the list. Ayn Rand? Are you serious?
Phil
- 23-Sep-18 @ 10:41 PM
Authors I think should be here: CS Lewis Gordon korman Dr Seuss Roald Dahl Jim Davis Johann wyss What do you think? (Other than that I am too modern)
Yummy
- 20-Jul-18 @ 1:10 AM
Why is Simone Elkeles not there what is wrong with you people?
ilovepeanutbutter
- 18-Jan-18 @ 5:51 AM
what about veronica roth suzzane collins or john green??
daveo
- 23-Nov-17 @ 1:02 AM
Ya what? Um... has Roald Dahl gone on holiday and been forgotten about or something? He's a well good author!
I'm not mad
- 16-Oct-17 @ 5:44 PM