The New Power of Book Clubs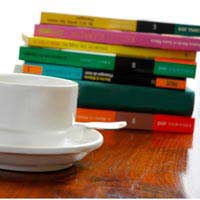 There was a time when belonging to a book club was seen as contemptible - with members seen as socially dysfunctional people who buried their noses in the 'dry' world of books instead of living life "for real" and pursuing "real" pleasures, such as partying. Books clubs were simply seen as catchments for socially-inept people, with little significance in most people's lives. Their discussions were seen as too academic or specialist to have any relevance to 'every day people'.
Book clubs reborn
But that attitude has all changed – in fact, book clubs have undergone a complete transformation – a 180 degree about-turn – so that not only are they seen as "trendy" now but they wield a significant amount of power and influence in the literary world, which even spills out into other arenas. People no longer believe it is only certain "experts" who can advise on which books to read but are starting to embrace the concept of ordinary people sharing recommendations which make their search for reading material easier and more pleasurable. Book clubs – especially those hosted by celebrities – have the power to create overnight sensations and boost an unknown author to the top of the bestselling lists, turning an impoverished writer into a millionaire in a very short time, as well as generating much social discussion and connection between people.
Celebrity book clubs – a force to be reckoned with…
Hardly anyone hasn't heard of Oprah Winfrey and her book club. Originally started as a new segment on her TV show in 1996, the book club has grown into its own, becoming such a powerful force that there has even been a phrase coined about its influence: "the Oprah Effect". This phenomenon means that it has often successfully brought obscure novels to the public's attention – in fact, many a new book that was introduced as Oprah's book club selection has instantly become a best seller – even with forgotten classics, such as John Steinbeck's 'East of Eden'. For an author, being recognized by Oprah's book club can be as good as winning the lottery because it can mean a million additional book sales!
In the UK
Richard & Judy's Book Club, launched in 2003, has had a similar effect on the reading habits of the general population and consequent book sales. Even critics have been impressed with their thoughtful selection of modern classics, chosen by their executive producer, Amanda Ross. Just like Oprah, Richard and Judy have seen their book club catapult unknown authors up the bestseller lists to become overnight sensations and household names. Their influence has both amazed and delighted the publishing industry. In fact, such is their power that other enterprises have decided they want a slice of this reading group cake. Tesco, for example, normally better known as a giant supermarket chain, has launched its own "book club" in conjunction with Random House as a partner. It offers book notes and reviews in its Tesco magazine and website and aims to make choosing a book as simple as buying a pint of milk or can of baked beans.
Word of the people…
But it isn't just celebrity book clubs that are enjoying this influence and power. As more people find books clubs to suit their tastes and lifestyle – whether at their library, online or in a traditional living room – they start to get reading guidance from a trusted source. This means more readers are willing to try books that they otherwise wouldn't even pick up.
Kate Mosse, author of 'Labyrinth', is one writer who is grateful for this new power of book clubs. Her book shot to success on the endorsement of book clubs and even found a male audience, following Richard Madeley's recommendation, when otherwise many men might have simply dismissed her as a "women's writer". Many books have had a similar experience, in particular books which feature daunting subject matter, such as Alice Seobold's 'The Lovely Bones'.
Nowadays when a book club features a particular titles, this often sets off a snowball effect – book bloggers everywhere will start posting reviews, other reading groups start adding it to their lists and libraries start developing waiting lists for that title – which creates more hype and fascination. And all down to the power of word-of-mouth in turning a title into a "hot book" for reading group circles.
You might also like...
Alice Sebold's book, The Lovely Bones, was not an Oprah Book Club book! Because of its extraordinary sales, it became a popular misconception that The Lovely Bones was chosen by Oprah Winfrey for her bookclub, but this was never the case.
christy
- 8-May-13 @ 8:09 PM