Fun Ways to Choose Books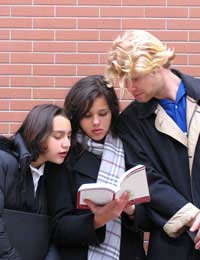 While most book clubs will have a set method of book selection, it is often fun to devise new and unusual ways of choosing a reading programme. Here are a few to get you started:
Get all members to read a banned book and at the next meeting, get each member to describe the book, why it was banned, whether there was any justification for the ban and whether this book plays an important role in society. See if other members agree.
Choose books by authors from a particular country – for example, Irish authors or Chinese authors. Meetings can follow the theme by having food, refreshments, music and décor to match the relevant country.
Read pairings of a classical novel and its matching contemporary novel. For example, Jane Eyre and Wide Sargasso Sea by Jean Rhys. Discuss if the contemporary novel enhances the old classic or even outranks it in terms of character, plot, setting, style, etc.
Decide on a list of books that have won literary prizes or should have. This can be based on one particular prize – for example, the Pulitzer Prize – or any literary award. For genre fiction, books can be chosen based on awards within the genre – for example, books that have won the Crime Writers' Association Dagger Awards.
If a women-only group, why not read books by famous women authors about the empowerment of women or which have had a significant impact on women's affairs?

For a meeting that is planned around the time that clocks will change, how about choosing a book with "time" in the title? For example, The Time Traveler's Wife, The Curious Incident of the Dog in the Night-time and Love in the Time of Cholera.
Read books by local authors, especially during times of local literary festivals promoting these authors.
Choose books themed by occasions in the annual calendar – for example, Mother's Day and books about a mother's love or Valentine's Day and books involving tragic love-stories or even – to be a bit more creative – books with "red" in their title.
Get every member to reread a childhood favourite and discuss why it is so beloved. Do any other members share the feelings about the same book or do they have radically different memories and perspectives?
Desert Island Books – get members to agree on a list of all-time greats that would be taken to a desert island and then read and discuss them.
Theme book choices around the seasons – you can either match the seasons, thus reading books set in winter during the cold months or do the reverse and focus on books set in warm climates or with a sunny, warm summer atmosphere.
Ask every member to try a genre they have never read before and discuss whether they enjoyed the foray into the unknown and if not, why not. Perhaps match this with a discussion of each member's favourite genre and why. Obviously, this works better in a general interest book club.
Following an official recommendation's list (e.g. Richard and Judy's Book Club) for a set period of time and then discussing with other members the value of the recommendations – does everyone agree with the recommendations? Is it a worthwhile list to follow?
Have a political theme – select books that discuss social issues and current affairs, such as racism, euthanasia, homosexuality, poverty, crime, environment. Be sensitive, though, to members' backgrounds and personal views – in some cases, it may be better to leave controversial books to a later time when members have gotten to know each other better.
Choose books set in a particular time period or about a certain historical event. Perhaps match a work of fiction with one of non-fiction and / or biography – all related to that period.
As you can see, there are a myriad of ways of choosing books, especially when making your selection based on a theme. Just by spending a bit of time thinking, you can come up with choices that will not only suit the interests of the group but also provide some fun along the way!
You might also like...