Reading Romance Fiction Genre Books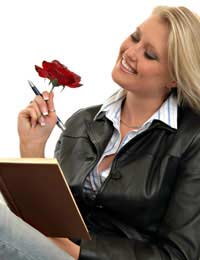 There is probably no literary genre better at dividing people than the romantic novel. But love it or hate it no-one deny that romances have shown a strong presence and remarkable staying power in the world of fiction.
The romance novel was primarily developed in Western culture and focuses on the romantic love between two people, how their relationship develops and how they overcome obstacles to come together. The conflict and dramas in the story are always related to the core theme of romantic love although the romance novel can have subplots that do not directly relate to the main relationship. In general, it is expected to have a "happy ending" - i.e. one that is emotionally satisfying and optimistic and where the hero and heroine live happily ever after. However, some famous romances - such as Shakespeare's "Romeo and Juliet" do not follow this rule. In fact, tragic romances are quite common and often very popular.
In addition, romances tend to be quite "black and white" where good characters are rewarded and evil ones punished. This leads to many people contemptuously labelling romance novels as shallow and superficial. The trend for much romance fiction to have covers which feature scantily-clad women being grabbed by a hulking male has further raised sarcastic labels, such as "bodice-rippers" - a term now considered offensive by many in the romance industry - and for romance fiction readers to suffer under a cultural stigma. However, fans maintain that they are a wonderful form of escapism and do not have to be "dark and heavy" in order to be worth reading. Furthermore, romances have and do address controversial subjects such as date rape, domestic violence, addiction and disability.
Romances have evolved throughout history, starting from the classics such as Jane Austen's "Pride and Prejudice" and Emily Bronte's "Wuthering Heights" down to the modern "chick-lit" novel, although some would argue that these are not strictly romance novels as the relationship between the heroine and hero is not the core of the story, with the heroine's other relationships with her friends and family often being equally important.
Because most romance novels are read by women, the stories are usually told from the woman's view point in first or third person. Their content can range from highly erotic writing to chaste displays of affection and many are classed as "category romances", which are short and published in clearly marked categories, often labelled sequentially. Harlequin/Mills & Boon is the biggest publisher of category romances, releasing 500 titles a month in 25 different languages.
Romance Fiction Genres
Like many other genres, romance is itself divided into sub-genres:
Historical romance - anything set before World War I is usually considered a historical romance. The Regency Period in England is a particularly popular, as is the Medieval period.
Romantic Suspense - in addition to the core romance, the hero and heroine are embroiled in an intrigue or mystery that they have to solve together.
Paranormal Romance - these stories are set in fantasy settings or futuristic time-frames and often involve time-travel themes. Furthermore, the romance may take place between species other than humans, for example, vampires, ghosts or other mythological creatures.
Multi-cultural Romances - these feature inter-racial relationships and often weave elements of foreign culture into the plot.
Erotic Romances - this is a blend of romance and erotica, characterised by strong sexual content.
Contemporary Romance - including the recently popular "chick-lit" novels, these are one of the most popular sub-genres with any kind of story set after World War II.
Discussion Points for Romance Novels
What kind of romance was the book? Is it typical of that sub-genre?
Were the conflicts between hero and heroine resolved in a convincing manner?
What was the time period the book was set in? Did it add to the romance or detract from it?
Same for the setting - did it bring the romance alive or distract from the central plot?
How do you feel about the characters? Do you think the hero and heroine are suited to each other? Did you relate to them? Did the author portray them sympathetically?
What kind of personality traits did the author use to define each character?
Would the book have been improved if it had been told from a different point of view? In first or third person? In a different style?
Are there any particular themes that the author is getting across? Do you think they achieved this successfully?