Reading Crime and Mystery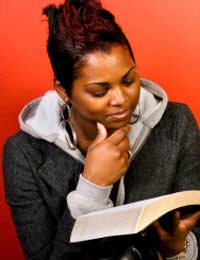 It is no surprise that crime and mystery stories have been among the most popular forms of fiction throughout history and continues to hold that position today with millions of readers worldwide. Thus they are a popular choice for book clubs and in fact there are reading groups exclusively dedicated to this genre.
Man's fascination with crime and mystery can probably be traced back to the playwrights of Ancient Greece, such as Sophocles, whose plays combining mystery and intrigue enthralled the local citizens. The courtroom drama probably had its roots in the passionate defences of Cicero, a 1st Century BC Roman orator, magistrate, statesman and writer who captivated Romans with his speeches defending accused criminals.
Crime fiction sub-genres
While crime fiction is a genre itself within general fiction, it is often further divided into sub-genres, based on the setting, style of writing, characters and events that traditionally take place.
Puzzle or "Locked Room" Mysteries – traditionally, this involves the murder victim being discovered in a room with no obvious means of escape for the murderer, although it has expanded to include any murder where there is no apparent way of committing the crime. It usually incorporates devices such as 'red herrings' (misdirection) and illusion, so that readers are confounded by a murderer who seemed to escape from an impossible situation – while the very simple solution has been presented at the beginning of the story and has been overlooked. Such stories were first introduced with Edgar Allan Poe's 1841 story, "The Murders in the Rue Morgue" and has continued their popularity, even appearing in TV shows such as the "Jonathan Creek" mystery series.
Cosy Mysteries / Classic Whodunnit – this is the classic style of mystery writing, as epitomised by Agatha Christie's "Murder at the Vicarage", where a group of people, usually isolated in a country house, hotel or village, become suspects in a neat murder. It was particularly popular in England during the 1920's and 1930's and usually featured a clever civilian-turned-detective who relied on observation, a keen understanding of human nature and a good ear for interpreting gossip to solve the mystery.

Hard-boiled Crime Fiction – this is characterised by its unsentimental portrayal of crime, violence and sex and is America's greatest contribution to the crime genre. Written in a specific literary style pioneered by writers like Dashiell Hammett and Raymond Chandler, these stories usually feature a tough male detective as the central character who defied convention and whose "lone ranger" style helps him to think outside the box and solve the crimes.

Legal Thrillers – this relatively new sub-genre involves crusading lawyers that become involved in their own cases, usually in trying to prove a client's innocence, and putting their personal relationships and lives at danger in the process. The legal framework and system of justice plays a large role in these stories and in many cases, the story also involves substantial courtroom drama. The most famous author in this sub-genre is probably John Grisham.
Spy Novels – also known as the political thriller or spy thriller, these stories were born just before WWI, when the world's first modern intelligence agencies were being formed, and has met with great popular success since then. As their content is largely based on political intrigue, interest waned after the end of the Cold War but with new terrorism threats appearing daily, this genre is experiencing resurgence.
Psychological Suspense Novels – another sub-genre that has gained great popularity and success recently, these books focus not only on the crime but also on the back story of the murderers, victims and other people touched by the crime. It is popularised by authors such as Ruth Rendell, Minette Walters and Nicci French and derives a lot of its success from readers' curiosity about the characters: what is it that make a person commit a crime or react in a certain way to a crime? They often feature every day people caught up in unexpected situations, rather than professional detectives and investigators.

Police Procedurals – unlike most mystery stories which follow the activities of one detective or amateur sleuth, police procedurals usually follows the lives of a group of police officers (often inspector and sergeant partnerships) and will frequently involve solving multiple crimes simultaneously. They also often reveal the identity of the villain early on in the story, unlike traditional mysteries which leave the identity until the climax of the story. In recent times, these stories have extended to include related professions, such as forensic pathologists and criminal profilers, as very successful additions to the genre, by authors like Patricia Cornwall, Kathy Reichs and Val McDermid.

Book Club Resources

For reading groups focused on crime fiction and mystery stories, here are some online resources to help with book choices and stimulate discussions:Euro Crime (http://eurocrime.co.uk/links.html) – a site exclusively dedicated to British and other European fiction writers. It includes extracts, author information, news, book reviews, awards, events and the best European specialist crime fiction bookstores, as well as online discussions.

Yahoo! Discussion Groups

British Mysteries (http://groups.yahoo.com/group/britishmysteries/)
Brit-Aussie Mysteries (http://groups.yahoo.com/group/Brit-Aussie/ )- authors can also be from New Zealand, Australia and Canada.
4MA (http://groups.yahoo.com/group/4_Mystery_Addicts/) - discusses three books each month, with at least one European book. Considered the best crime fiction discussion group on the web.
Oz Mystery Readers (http://au.groups.yahoo.com/group/oz_mystery_readers/)

Crime Fiction Reading Groups

Broughty Ferry Library - Last Tuesday of the month from 1.30 pm to 2.30 pm.
Newmains Library - A Crime / Thriller Reading Group meets once a month on a Monday at 2pm. For the date of the next meeting and book for discussion contact the Library Supervisor.
Lambeth Borough - Clapham Crime Scene book group (Clapham Library Second Saturday of each month, 2 - 3.30pm), Streatham Crime Reading Group (meets at Streatham Library Third Tuesday of each month, 7 - 8.30pm) and West Norwood Crime Group ?Crime scene (meets at West Norwood Library First Thursday of each month, 2 - 4pm)
Nottingham Central Library - meets every month, last Tuesday of the month at 2pm.
Stockport MBC - at Cheadle (10.30am - last Friday of the month) and Hazel Grove 2.00pm - second Saturday of the month) libraries
Winchester Library - Meet in the library every two months, on a Wednesday evening, 7.30-9pm.

You might also like...

Dear All, I hope that you are well. Just wondered please if you might take a look at one of my latest novels, now available on Amazon in both electronic format but also in paperback. SHE'S MISSING By.- K.E. Heaton. Its 1976 and the U.K. is in the middle of a serious and prolonged heatwave when suddenly without warning, two young women go missing on the West Pennine Moors above the old market town of Chorley, in the county of Lancashire. A storyline full of intrigue, suspense and inevitably a good deal of skullduggery. Its free to anyone with Kindle Unlimited and its also completely FREE to download from Amazon onto a kindle or other electronic device, for 24 hours, on Sunday, 18th, April, 2021. Please, if you will, let me know what you think? I'd love to hear from you. Thank you for your time. Kind Regards Keith.

Sid

- 17-Apr-21 @ 8:05 PM

Most interesting website. John Waddington-Feather resident in Shrewsbury for the past forty years is a popular British author who belongs to the West Yorkshire 'school' of writers.His children's novel, Quill's Adventures in Grozzieland, was nominated for the Carnegie Medal in 1989, and his widely produced verse-play, Garlic Lane, won the Burton Award in 1999 and was staged in London in 2011 at the Rosemary Branch Theatre, Islington.In 2002 he was awarded the American DeWitt Romig Prize for his poetry.He was the first chairman of the J.B.Priestley Society and is now a vice-president. In 1985 he was elected a Fellow of the Royal Society of Arts. A school-teacher all his life, he is also an Anglican non-stipendiary priest and was a volunteer chaplain in Shrewsbury Prison from 1969 to 2009, going into prison the odd night after school and helping in the chapel at weekends. From his forty years as prison chaplain he has much material to draw on for his crime novels! For many years he worked as lyricist for the composer, conductor and organist, David Grundy, who died suddenly in 2010. John wrote the words for over 200 hymns and other religious works which David set to music. Many of them were published as collections by Feather Books and used by churches in Britain and abroad. CCLI of Eastbourne are the agents for his hymns and music. .Over the past few years his wide range of work has attracted a growing number of readers in many countries including the USA and more recently in translation in mainland Europe where his short stories are used by the British Council in their BritLit educational scheme to promote contemporary British writing abroad. His very popular Blake Hartley crime novels are already published by Kindle as e-books and more of his work, including his drama and short stories, will appear on Kindle in the future.

Waddy

- 15-Jul-13 @ 12:53 PM