Where to Source Books From?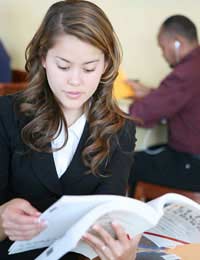 Once your book club has been established and you have decided on the schedule and format of meetings you'll be turning your mind to the selection of titles. This usually involves deciding on a selection process, such as voting or rotating recommendations and the general type of books to read, for example, genre fiction, non-fiction or books grouped on other themes. However, once all this has been decided, you will still need to source the actual titles you will be reading each month. So how you do go about finding books choices?
From friends, colleagues and family…
By far the best recommendation is "word of mouth". Despite the fortunes spent by publishers on promotion and the marketing campaigns deployed by book stores to produce enticing book displays, word of mouth wins every time when the book-buying public come to choose a new book to read. It is through word of mouth that classics and best-sellers like The Curious Incident Of The Dog In The Night-time, The Lovely Bones, Captain Corelli's Mandolin and even The Da Vinci Code have become household names. So, whenever a friend, colleague or family member – or even fellow book club member – whose taste you trust recommends a book, make sure you note the title and author down and follow it up.
From awards lists…
There is a reason why these books have won awards and you could do worse than to find out why! Websites like Amazon.co.uk provide lists of the current award winners, such as The Orange Broadband Prize for Fiction, The Galaxy British Book Award, The Costa Book of the Year (formerly the Whitbread Awards), the Man Booker Award and the annual British Book Awards. These are not just restricted to novels of general fiction either – for example, there is the BBC FOUR Samuel Johnson Prize for Non-fiction and for genre fiction, the Arthur C Clarke Awards, one of the most prestigious science fiction awards in the world, equivalent to the Booker Prize.
From recommendations in the media…
High quality newspapers can be a good source of literary recommendations. Many newspapers run their own book clubs where they recommend a book a month and the advantage is that unlike publishers and other book suppliers, there is usually no commercial motive behind the recommendations. For example, the Guardian produces a list of "50 Books You Must Read" which are books that are not necessarily popular today but books which have defined the decades of the 21st century, including titles like Brave New World by Aldous Huxley, The Diary of a Young Girl by Anne Frank, The Catcher in the Rye by JD Salinger, Catch 22 by Joseph Heller and Nineteen Eighty-Four by George Orwell. Newspapers are also the source of respected book reviews which can help enormously in making a choice. Online websites dedicated to book clubs and reading groups can also be a great resource as many will feature books that have accompanying reading group guides, which can really help to stimulate discussion.
From other book clubs…
Ask around other book clubs to see what they have been reading. In this age of the internet, you can also ask for opinions from online book clubs and book discussion forums. This gives you a wider pool of opinions to access. For example, websites like http://messageboards.ivillage.co.uk/iv-uknebooks are dedicated to recommending good reads and discussing the books.
Another good source of ideas may be celebrity book clubs, such as Richard and Judy's Book Club and Oprah's Book Club. These run regular lists, both of annual choices and also seasonal ones, such as "great summer reads".
From publishers' websites…
Publisher's websites nowadays feature many resources for book clubs, including lists of recommended titles – although keep in mind that these recommendations are likely to be biased – and also online communities where members may be able to give you their honest opinions of books read. Many publishers also offer reading group guides to accompany their published titles, which can be downloaded from their websites.
From libraries and book stores…
Libraries and book stores are fantastic sources of ideas for books. Most will produce regularly updated lists of recommended titles and "librarian's picks" and if not, most libraries will be happy to help you and your book club find suitable titles.
Choosing books to read should be a fun and exciting process and by trying some of the methods suggested here, members of a book club should be able to come up with a diverse list of titles that everyone will be keen to get started on!
You might also like...