Fiction or Non-Fiction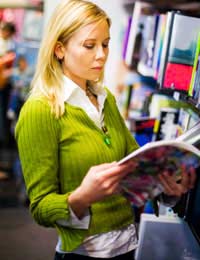 One of the most important decisions in a book club is choosing the type of books to read. For those without a particular preference for a genre or special interest area, deciding between fiction or non-fiction tends to be the next dilemma. For many people, book clubs automatically refer to works of fiction and conjure up images of people sitting around discussing symbolism and metaphors in a novel. But non-fiction books can be successful choices for reading groups too – and can be a fantastic way for you to gain new information and experiences. Reading non-fiction with a group of people means that you get the chance to discuss what you have learned with others and to listen to their perspectives as well.
Advantages of Fiction
Fiction is what most people think of when they think of "books" – stories invented by authors who use their talents to transport you to another time and place and make you care for the characters. They are engaging, exciting and fun to read – and are a wonderful form of escapism: your preoccupation with the fictional characters and the conflicts in the story takes you away from the boredom and stress of your own daily cares and worries. Their enduring popularity is shown in the best-sellers lists and shelves upon shelves of offerings in book shops.
Likewise, discussing fiction books in a reading group can be engaging, exciting and fun. It can also be a contentious experience as each member discusses their unique, personal opinion of the story and its characters. You may be surprised to find that your favourite character is another member's most hated or that events which saddened some may delight others. Discussing fiction in a book club can be a thought-provoking experience as people can have such a wide variety of reactions to the same text! Ultimately, reading fiction in a book club is all about the different interpretations of what happens in the book therefore, for those who want an enjoyable but intellectually challenging experience; choosing fiction can provide great scope for discussions as well as be a lot of fun!
Advantages of Non-Fiction
There are many who prefer non-fiction for their education aspect, something that can be lacking in fiction books. Since non-fiction is usually based on reality and focused on a topical subject, it provides many opportunities for learning and education. Having said that, for a reading group, it may be a good idea to avoid non-fiction that may focus on divisive topics as this can create unnecessary tension within the group – for example, books written from an extreme religious, political or other stance may seriously offend some members. Certainly discussing important, topical issues is worthwhile, stimulating and should not necessarily be shied-away from but it would also be disastrous to break up a book club simply because members came to blows over a certain book. Perhaps it would be better to leave potentially controversial non-fiction books until after the club has been established for a while and members are more familiar with each other. Then you can judge better what views might be held, how strongly people feel about certain subjects and whether a particular non-fiction book would be suitable material for discussion.
One common belief is that non-fiction books are "dry" and difficult to read and while this may be true of some, there are many which can be just as engrossing as fictional texts. And if you choose a "How To" type book where the whole group can engage in learning a new activity, this can become a gripping pastime – for example, undertaking a small construction project together. Not only will all members learn about a new topic in-depth but you will have the bonus of many add-on activities that the group could do together. For example, reading a book about astronomy could lead to a group outing to the local observatory.
Conclusion
As with many things, it is really a matter of personal choice whether your book club chooses fiction or non-fiction texts. In actual fact, many reading groups read a mixture of fiction and non-fiction titles and benefit from the variety. Certainly, if your club has always stuck to fiction, don't be afraid to throw a non-fiction title into the mix – you might be surprised at the results! Especially if your group have fallen into a slight rut, throwing a different type of book at members can really spice up conversations and stimulate discussion.
You might also like...
i think fiction and non fiction are good for our life and some one lik this book the other person like the other book weshould always should know this sentense every body has own idea thanks for your help full web site
saraa
- 4-Aug-12 @ 12:02 PM