Book Clubs Are Trendy Again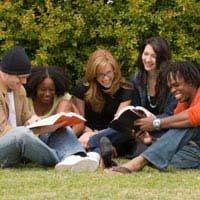 There was a time when the words "book club" had a less than positive image. People either imagined a group of literary snobs sitting around arguing about dry concepts in dusty old tomes or a collection of social misfits who gathered together to use books to give meaning to their otherwise empty lives. In fact, a Channel 4 TV series was even based on the latter image: "The Book Group" featured a neurotic America who starts a book club after arriving in Glasgow, in an attempt to find friends with similar interests. She ends up with a group including discontented footballers' wives, a struggling disabled writer, a bisexual football fan and a drug-addict, egotistical post-graduate – and none of them sharing much in common by way of reading at all!
The new image of book clubs
In recent years, however, that negative has all changed. In fact, it is even seen as trendy now to belong to a book club and many celebrities are embracing this by starting book clubs of their own, often with huge success. The best known book club worldwide is probably Op rah Wifely's Book Club but closer to home, the Richard & Judy Book Club has been a bit hit with the general public, since its launch in 2003. It has impressed not only the reading public but even the critics with its well-chosen, balanced and thoughtful list of book recommendations. In fact, the book club has become so popular that it has incredible power in its ability to catapult books up the bestseller list – even those by unknown authors – and thus creating overnight literary sensations.
Nowadays, hundreds, even thousands of people across the UK are thought to belong to a reading group. They are finding being a member of a book club to be fun and rewarding, transforming the personal and private experience of reading a book into a shared one of discussion and appreciation. Book clubs have become so popular in recent years that they are also abandoning their traditional venues of libraries and living rooms – and branching out into TV, radio, newspapers, magazines, the Internet, the workplace and now – yes, even on Twitter!
Book clubs – the new community
Not only do members take advantage of great recommendations and discussion suggestions but they also feel a sense of community to be tackling the same books at the same time as hundreds of other readers across the country. Online book clubs have both fuelled and flourished from this phenomenon, as they make it easier for like-minded people to connect with each other, regardless of time and place. Not only can you have a reading friend from across the country – you could even have reading friends from across the world! This is networking potential for reading groups on a global scale.
A traditional reading group discussion might be limited to the knowledge, opinions and ideas of the small group of people able to meet together at a certain time, in a certain place…whereas a popular online book club discussion forum could have up to thousands of responses per thread. What's more, this discussion remains recorded in cyberspace for others to view and add their comments, even if they were not part of the original discussion.
Why book clubs?
Libraries have been enjoying the resurgence in the popularity of book clubs – for example, the East Midlands library services reported "an astonishing 33% growth" in reading groups they supported, in the year 2007 – 2008, while the Principle Librarian for Reading and Lending, Oxfordshire Library Services has reported that in the first 11 months of the year 2009, their supported reading groups jumped from 20 to 140 new groups!
One may wonder just why book clubs should suddenly have become popular and trendy again. One answer could lie in the explosion of book titles in recent years. Just like TV stations, we have never been faced with so much choice and this wealth of choices can actually be frightening and overwhelming. There are approximately 160,000 books published annually in Britain and over 92.4 million books available through libraries. It is little surprise that people are seeking guidance through membership of book clubs to help them wade through the mind-numbingly high "choice" of books and select suitable reads that they will enjoy.
You might also like...
I would like to know if I can share my new book to the book readers.
J.R.Emms
- 2-Jun-17 @ 6:43 PM