Buying and Selling Second Hand Books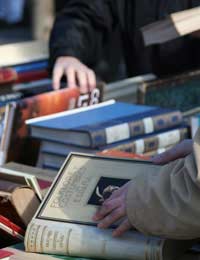 Out of print books and rare books can provide wonderful fodder for intense discussions among reading club members. However, they can sometimes be difficult to find (or pass along to people who will respect the literature as much as you do.) Thankfully, the Internet has made it much easier to uncover these literary gems, though you'll need to do some old-fashioned digging.
To begin your journey, why not seek out antiquarian books at your local secondhand or consignment bookshop? Put aside at least an hour or so – many such places do not organise their wares, meaning a considerable amount of rummaging time can be expected. You may want to bring along a pair of gloves; older and rare books can be dusty and fragile. By wearing gloves, you'll protect both the books and your skin (which can become irritated from the dirt.)
As you're perusing your local bookshop's selection, be on the lookout for little-known titles by well-known authors. For example, a reading club is the perfect place to discuss Melville's pre-Moby Dick pieces. Look, too, for books that are out-of-print or may have had a very short run. (SIDE NOTE: Don't forget to check the inside pages; often, a personal inscription can make a secondhand book even more special!)
While you're at the bookstore, make a point to ask the clerk or manager how you can donate your used books so that others can enjoy them. That way, you'll know how your reading club can pass along copies no longer needed or wanted.
If your adventure at the secondhand bookshop leaves you empty-handed, don't fret. There's always the vast world of the Internet, which offers a plethora of opportunities to find thrillers, mystery books, out of print books, first editions and other works of literature.
Begin by typing keywords such as "secondhand books" or "antiquarian books" into any of the popular top search engines. From there, you'll likely have dozens (if not hundreds) of online bookshops to virtually scour. Chances are good that you'll not only be pleased at the wide selection, but you'll also be introduced to some books you never considered for your reading club.
As you would with a brick and mortar bookstore, be picky and ask questions. One of the secrets to having a positive shopping experience is to be a savvy consumer. Find out all you need to know before hitting the "pay now" button, including shipping and handling charges and return policies.
Other online hotspots for rare books are the many auction sites. There, you can bid to buy mystery books, thrillers, books on religion or politics and whatever else you require. (Some merchants also offer "buy now" prices.) Again, be picky and don't bid without asking yourself if you really want what you see on your computer screen.
Once you become more confident navigating the cyber world of bookshops and auction-based marketplaces, you'll no doubt start to come up with ways that you and the rest of your reading club can recycle your own used books. Perhaps your reading club could even start its own "store" online. The monies you receive from selling your own collections of books you no longer want could be used to purchase rare books. It's a winning situation for everyone!
You might also like...
I have a large collection offiction paperback books in very good condition. Some of the books are whole sets by the same author. I am needing to downsize so I am looking to find an outlet that would be willing to purchase them from me.
Raindrop
- 24-Apr-13 @ 3:09 PM
My husband is Israeli and reads voraciously.He stocks up on Hebrew books when he goes to Israel but always runs out during the year. Is there anywhere selling secondhand non English language books in the UK?
Yell
- 18-Dec-12 @ 11:40 AM
I have some 300 books (mainly novels) by modern authors that I want to dispose of. Any suggestions? Thks & Rgds. E. M. A. Baikoff
Mr.B.
- 1-Dec-11 @ 8:10 AM