Choosing Books for a Book Club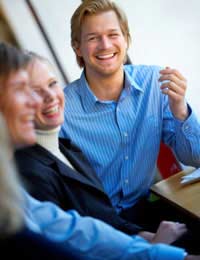 What's the best way to choose books for your reading group? Since the success or failure of a book clubs often depends heavily on the type of books selected making the right choice is extremely important.
First…
It is a good idea to first set aside time or even have an initial meeting where members can decide on the general type of books they plan to read and how narrow or broad the selection is going to be – for example, genre vs., general fiction, modern vs. classics, high brow vs. low brow, etc.
Next…
Once you have decided on the kind of books, you next have to pick a selection procedure. This helps to keep things organised and efficient and also prevents resentments and arguments within the group. One of the most common ways is for each member to suggest a few titles and then selections are decided by the majority vote. This results in a list of titles being drawn up (e.g. 12 titles for each month of the year) and then members can plan in advance how to obtain copies of the chosen titles.
Other methods include the host of each meeting choosing the book, an assigned group leader making the selections or all members taking it in turns to choose a book, regardless of whether they are hosting a meeting. Sometimes, book clubs will even have an official selection committee that discusses members' suggestions. Provided that all members are happy with this, a selection committee can be a great way of saving time as debates about titles in a large group can go on too long with no resolution.
Remember also that a selection policy can be changed if it does not suit the group or just to introduce a bit of change.
Then…
Once you have your procedure in place, you will still have the face the task of choosing the actual titles. One good way to approach this is to look at online resources for book clubs and publishers' websites – these will often have recommendations, along with extracts and reviews to help you. Celebrity book clubs also offer lists of popular favourites and worthwhile titles, whilst award lists (e.g. The Pulitzer Prize, Booker Prize and National Book Awards) give you a ready-made selection of "good books" (although beware, just because a book has won a literary award does not necessarily mean that it will be to popular taste). Libraries and book stores are another good source of recommendations, with the latter even offering specials for certain genres or authors or types of books.
Choosing a theme can greatly help in coming up with a shortlist, for example, country, author, genre, subject area, culture or time period. Alternatively, you can deliberately opt to have a list where all the books are distinctly different from each other, with no similarities or common themes at all!
Classics have become so because of their enduring popularity so it may be fun to revisit a famous selection of old-favourites and read them all over again. Forget your memories of reading as school homework - even if you know a book well, you may find it a completely different experience reading it in the context of a book club, with discussion questions and input from other members.
As most people join book clubs to broaden their reading experience and stretch their minds, it is good to choose titles with these attributes in mind – "taking you place you haven't been before" and challenging established perceptions with thought-provoking questions. Banned books can be a very interesting category or books that have caused great controversy. Note that mainstream commercial fiction often does not lend itself well to in-depth discussions so you may need to mix in some literary novels, although this partly depends on the nature of your book club and your aims. Certainly, the most important thing is everyone's enjoyment and participation therefore, if your club is not a serious literary one, there is nothing wrong with just reading and enjoying popular fiction.
Things to remember…
Here are a few more tips to help you when selecting books:
If you pick out a whole list of books ahead of time, this can be very useful for taking advantage of the discounts from mail order and online book clubs and book sellers.
It can also be a good idea to restrict your choices to paperbacks or to those readily available from local book stores and libraries, to make it easier for members to obtain them.
If you decide on a certain category of book, be careful about "genre burnout" – it is best not to stay with the same theme for too long or to take regular breaks with a book that is completely different.
While it is good to be organised and have a list made out in advance, be careful also of committing to books too far ahead as the mood and interests of the book club may change over time – be flexible and willing to make last-minute adaptations.
For the first few meetings, it might be a good idea to choose relatively short books (save War and Peace for another time!) and to choose one which has a reading group guide.
Especially if your book club is still new, this will help to move thing along in the first meetings until members are more familiar with each other. It is also advisable to avoid potentially upsetting, offensive or controversial books (egg, about politics or religion) until the group is more established and members get to know each other better.
You might also like...