Online Romance Reading Groups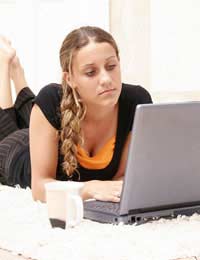 For fans of romantic fiction, Mills & Boon – and its international parent company, Harlequin – hardly need an introduction. In fact, Mills & Boon is the most recognised British publisher of romantic fiction with a 74% share of the UK paperback romantic fiction market, worth more than £54 million each year. It claims to sell 6 books per second worldwide and brings out about 50 new titles per month – great news for the millions of readers hungry for more!
While the romance paperbacks have traditionally been sold through bookshops and supermarket chains and has a strong national retail presence, the publisher has also moved into internet trading, either through online bookstores like Amazon or via its own reader service, which has become a thriving subscription service delivering throughout the UK. These reader services not only supply books – much like a discount or commercial book club – but also form the basis of an online reading group or community for fans of this type of fiction.
Mills & Boon Reader Service - UK
Available to UK residents, this is more of a straightforward subscription service. Potential members are offered free books plus a free mystery gift and charged nothing for this first shipment. They are also not obliged to make a minimum number of purchases in the following year. However, the idea is that following receipt of the free books, you will decide to remain a subscriber although you can still cancel at any point. If you remain a member, you will usually receive 4 new books per month.
It certainly seems a risk-free way to try out a commercial book club and if you are running a traditional book club that focuses on romantic fiction of this type, then the Mills & Boon reader service can be a valuable resource. For one thing, the books are conveniently delivered to your doorstep, removing the (undeserved but nevertheless common) stigma associated with purchasing such romantic titles and the embarrassment felt by some readers for admitting to liking this type of fiction.
The reader service also stocks titles one month ahead of retail outlets and offer books from all ranges, compared to the more limited ranges available in many bookshops. The UK website (www.millsandboon.co.uk) not only provides details of all their current titles and the means to purchase them but also offers some free online reads.
eHarlequin – North America
If you want to discuss the books as well and get involved in an online reading group of similar fans, you will have to look towards the North American website: www.eharlequin.com. There is a dedicated online book club called Harlequin Reader's Ring which features selected titles at regular intervals, especially suitable for use in traditional book clubs. Members can ensure that the featured selection is suitable for their club by reading an excerpt from the book online before purchasing it. It is a free service for book clubs and updates members through personalised newsletters about upcoming promotions and other "insider" information on the books.
It also supports book clubs by posting online reading guides with discussion questions for each Reader's Ring selection – to help stimulate book discussions at your own book club meetings. Other stimulating information includes in-depth author interviews and background information. If you do not have a traditional book club, you can still join in the online discussions about the selections, with other Reader's Ring members, at the Harlequin Reader's Ring message board.
The website features a thriving online community with 12 million registered members worldwide and offers several different forums discussing both the finer points of each category of romance (e.g. medical vs. historical, contemporary vs. traditional) as well as general topics about romantic fiction. Authors often participate in exclusive online discussions, allowing readers a chance to directly ask questions of their favourite authors – a sort of online author talk, if you like!
And recognising the fact that many readers are aspiring authors, there is even a discussion board focusing on how to successfully write romances and get them published. Furthermore, to mirror the social aspect of traditional book clubs, some of the discussions are not directly related to specific titles but topics linked to romance in general – for example, asking readers to discuss the type of men their parents warned them about and their experiences of unsuitable but incredibly attractive men!
Other Romance Reading Groups
You can also join other online romance book clubs that are not affiliated with publishers. A quick search on the internet will reveal a variety of options, whether focused on a particular type of romantic fiction, a particular author, romances in particular settings and locations or even romances set in a particular time period. These are basically similar to any other online reading group but with a focus on romantic fiction and they will not give the added advantage of offering discounted books for sale.
You might also like...