Celebrity Book Clubs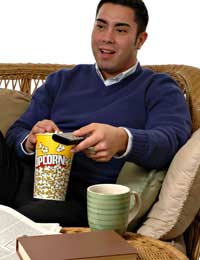 This is a unique type of book club where books are essentially recommended by one person - usually a celebrity or well-known person in the media. It is unlike all the other kinds of book clubs because it does not involve discussions but simply recommendations from one person. Having said that, many are developing associated online communities via the book club websites so you can still have discussions about books with other readers if you wish.
These clubs also still offer many of the advantages of other book clubs, such as books at discounted prices, knowledge of new titles and a chance to find out what a book is about and its strengths and weaknesses (albeit subjective to one person's opinion rather than moderated by views from a whole group) which can help you decide if you want to invest the effort in reading it. Most of all, these clubs have been shown to have a tremendous influence on the reading habits of the general public and a corresponding effect on book sales.
The Richard and Judy Book Club
Probably the best known book club in the UK, this is part of a TV magazine programme hosted by talk-show couple Richard Madeley and Judy Finnigan. It was added in 2004 as a regular segment to the show and takes the format of featuring 10 books each year. While you cannot meet to discuss books like in a traditional book club, discussions are conducted during the programme, often with guests, so the public can "join in" discussions by watching them on TV. It was partly conceived as an attempt to make reading more inclusive and to help broaden people's horizons. The idea was to have book discussions as not just the domain of very esoteric discussion programmes but also accessible to the general public as well. Each week, the programme focuses on a particular book published in the past year that was considered "a cracking read". A couple of hundred titles are submitted for consideration by publishers and these are then whittled down to a shortlist by the programme's producers, with involvement from Richard and Judy themselves.
Unlike the similar Oprah's Book Club across the Atlantic, the programme's producers and hosts cannot benefit financially from book recommendations as Ofcom (the independent regulator and competition authority for the UK communications industries) regulations specify that items can only be discussed on TV when the hosts are not financially benefiting from them. However, the books benefit hugely from being featured on the show, with the Richard and Judy book club being credited as having a massive effect on any books featured. In fact, Richard and Judy have been quoted as being the most powerful people in British publishing and books that have been featured have been known to sell out over night or to triple their expected sales.
As the book club has developed, changes have allowed more public involvement. For example, there is now the 'Richard and Judy Book of the Year' and 'Best Reads' awards which are based on votes by the public.
While many people will simply use the Richard and Judy Book Club as a personal guide for reading material, it can also be used as a guide for your traditional reading group with your choice of books based on the 10 book featured by the TV programme. Not only does this help you with book choices but the website for the TV club also contains many helpful features – for example, Reading Notes to accompany each featured book can be downloaded and copies given to your members at meetings to help steer discussions. You can also use the author information provided on the site, either as 'Note from the Author' and/or an 'Author Profile', to help give a better understanding of the book you are reading. Finally, you can use the website Message Board as a useful additional angle to your real-life discussions, either sharing your reading group views online or seeing if members of your traditional group agree with the views expressed online.
Oprah's Book Club
Considered by many to be the "grandmother of all TV book clubs" – Oprah's Book Club was started in 1996 and has had an amazingly powerful influence over the reading habits of the American public as well as the fortunes of books featured in the book club. Even obscure titles have become popular best sellers following a recommendation by the book club's host, Oprah Winfrey – struggling authors have become household names overnight and any book featured by the club is almost guaranteed to be propelled to the top of the bestseller's list. In fact, Oprah Winfrey is credited with single-handedly creating a national reading phenomenon. The format usually followed one book a month, which Oprah invited her audience first to read and then to discuss on her show with the author.
Oprah claims to personally select her books each week and for the many who are her adoring fans, this gives her book club a distinction from other book lists – a sort of personal recommendation, similar to one from a trusted friend.
There are some who criticise her choices as being too subjective and based on her own personal tendencies towards sentimentality and stories of 'strong women who endured' as well as issues of race and social woes that flourish in an environment of psychobabble. However, overall, her recommendations are valuable and even sometimes coincide with literary award choices – so can be used as a guide for your own selections in your reading group. Aside from this, Oprah's Book Club does not really offer very much else in terms of public or community involvement – there are no online forums or chat rooms similar to those on the Richard and Judy Book Club website nor any chance of the public voting on books.
You might also like...