Using eBooks in Book Clubs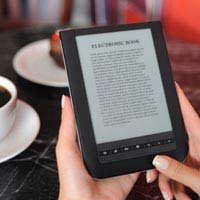 There has been a revolution in the reading and publishing world recently with the growth of ebooks and the launch of ebook readers and devices, in particular the hype surrounding Amazon's Kindle and Apple's new iPad. It's only natural to wonder how these new developments in the world of books could affect book clubs. Would reading group members benefit from the use of ebook readers? Would discussions be easier to prepare and livelier when books are accessible in electronic form? And what about the environmental benefits of using ebooks over traditional print books? Or would the inherent disadvantages of ebooks and their electronic reading devices, also known as 'eReaders', outweigh any benefits?
Benefits of using ebooks in book clubs
At first glance, one can see many benefits that ebooks can offer which their traditional print counterparts cannot. For example, with ebooks, you can customise and personalise your reading experience – in particular, you can easily change the settings to view the text in large type rather than having to purchase another specific large print edition of the same book. You may also find that if you frequently buy the books you read for your reading club, it can be much cheaper downloading a title in ebook format for a fraction of the price of the traditional paperback or hardback formats. In fact, many of the big publishers such as Penguin Books and Harper Collins have launched dedicated ebook sections on their sites, enabling you to purchase many of their bestsellers and classics in electronic format.
When it comes to discussions, ebooks offer many advantages too. For example, if you are preparing questions and notes for a discussion, you will find that an eReader simplifies your task – once you have downloaded the book to your device, you can easily type in a word or phrase and the eReader will find every instance that phrase occurs in the entire book. With most containing a built-in PDF reader, you can even create and upload documents within the eReader. This means you can carry all your notes about the book with the book itself – all in the eReader – and have it all together for easy access during discussions in the meetings.
Many ebook readers nowadays come with social networking functions installed, which means you can easily share with others on Twitter or Facebook about your current read and even post favourite passages, as well as book recommendations. Specific social networks have even been set up to facilitate this exchange, such as the Good Reads network, which is almost like Facebook for booklovers. This means members can keep talking and exchanging information about a book long after a reading group meeting is over.
Finally, there are those that argue that ebooks and eReaders are more eco-friendly because of the lack of paper and therefore trees being used in the production of ebooks. However, this may not be completely true because of the carbon footprint cost of producing the eReaders in the first place and the poor biodegradability of the devices, compared to the biodegradability of books made from paper.
The drawbacks of ebooks and eReaders
However, it is not all plain sailing with ebooks and eReaders – they come with many disadvantages too. Perhaps the biggest drawback is that book club members cannot share an ebook they have purchased with other members – not unless they lend them the whole eReader. This contrasts greatly with traditional print books which can be easily lent and shared across the group.
Secondly, ebooks generally cannot be downloaded from your local library for free, unlike most traditional print books. Furthermore, although there is a good – and growing selection of ebooks available to purchase and download – there are still many titles on publisher's backlists which are not available in ebook format yet. And finally, while ebooks are much cheaper to purchase than traditional paperbacks or hardbacks, this must be offset by the initial cost of purchasing an eReader. And although prices are already coming down and will probably continue to do so as the technology becomes more accepted and accessible to everybody, it still represents a significant initial outlay and investment compared to the few pounds you would spend on a new book.
Despite these disadvantages and the resistance from a significant group of readers who prefer the traditional print format of books, ebooks and eReaders are growing in popularity and are likely soon to be a significant presence in book clubs.
You might also like...
With e-book you can read more controversial novels without getting caught. I'm reading "CROSSOVER: straight men - gay encounters" By Robert Greene. This e-book is NOT an erotic book but looks at what compels men to act on their same sex desires. It's a collection of short stories, I really think a book club would enjoy discussing them.
AnitaT
- 17-Mar-11 @ 5:41 AM