What Is A Genre Book Club?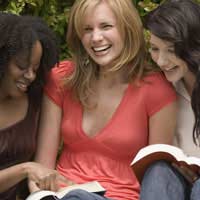 While some people enjoy reading in general, with no specific preference on the type of book or story, others love to return to the same type of plot, atmosphere and characters again and again and most of their reading will fall into a specific genre. Common genres and special-interest areas of fiction include:
Crime and mystery
Romance
Science-fiction
Fantasy
Historical/Epic/Saga
Children's
Classics
Advantages of Genre Book Clubs
For these readers, joining a book club with a specific fiction genre or focuses on a special interest can be especially rewarding, as not only can they indulge in their passion but they know that members will be like-minded individuals who enjoy reading the same kinds of books. There will also be less frustration with the choice of reading material as all the books will fall into the fiction genre that you are already interested in (although having said that, you may still dislike particular authors or books within a fiction genre). Research shows that agreeing on the book to read is the biggest problem in book clubs and the usual reason why they fail.
The discussions may also be more productive as all members are well-versed in the parameters of that particular fiction genre and this may help to give the discussions more focus and direction. For example, for members of a mystery or crime book club, a discussion about the villain would be natural and expected, with all members having their own opinions about how that particular villain compared in terms of character development, credibility, charisma and so forth. Similarly, for a romance book club, discussions about the hero would be a key event at each meeting.
Where to Find Genre Book Clubs
As can be expected, genre and special-interest book clubs tend to be online as this makes it easier to recruit members and to communicate between members who may not be in the same geographical location. Finding a large enough number of science-fiction lovers in a certain radius to form a book club may be a challenge whereas finding the same thing via the internet is very easy.
These book clubs can also extend beyond the traditional genres of romance, mystery, science-fiction, etc. and include other special interests, for example – there is an online book club where members read a different dog-related book each month. These online communities often include a discussion board as well as a list of links to resources related to that particular genre or type of literature. Some of them even include participation by authors! In many cases, these "book clubs" resemble the popular internet forums or discussion groups, the only difference being that members are expected to read certain books in a set period of time and have discussions about them.
An alternative type of fiction genre book club falls under the commercial book club type and in this case, it is essentially a way of purchasing books within a certain genre at a discount. In fact, this may often be the way to get the best deals in the category that interests you. There may be less focus on discussion in this case, although some of these commercial book clubs may have thriving online communities associated with them.
Tips for Starting a Genre Book Club
General guidelines for starting a genre book club are not that different from normal book clubs (see
How to Start a Book Club
) – however, the main thing is to make sure that all members really are serious fans of that genre as book selection can quickly become a problem if there is not enough interest in a particular type of fiction or literature.
In addition, as with fans of anything, feelings can be very intense with strong likes and dislikes for certain authors within the genre so be sensitive of this during book selection and in the discussions. In particular, have guidelines in place for the discussions so that they are kept on track and do not descend into a battle of warring opinions on a favourite author!
One other thing about genre book clubs is the supply of books in a specific category and for this it may be worthwhile for the book club as a whole to join one of the discount or commercial book clubs. Find one specific to your particular genre and it will not only offer you large numbers of books in your category at a discounted price but also provide news of new releases and reviews.
You might also like...