Online Book Clubs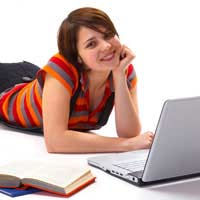 The rise of the Internet has meant that some reading groups can be established without all members having to be in the same geographical location or meeting in person at a set time. This is called an online book club and has become incredibly popular in recent times. They usually take the form of a website or online community where books are discussed via posts to an online forum such as various web forums or Yahoo! Groups. Alternatively, discussions can take place through email-based reading groups.
Advantages of Online Book Clubs
With today's busy lifestyles, this model offers several advantages such as greater convenience, because they can be accessed any time of day, as long as you have access to an internet connection. It also saves time in our busy lives as you do not have to take the time to travel to and from a specific meeting place. You can participate from the comfort of your own home, without having to make the effort to meet at a specific time and place and possibly be engaging in other tasks simultaneously. For example, a busy mother could take part in an online discussion while preparing dinner for her family at the same time.
Online books clubs also give greater choice. The diversity available on the World Wide Web means that you have a wider selection of book clubs to choose from rather than being confined to those within easy travelling distance. This means you can indulge in a specialised interest or genre or can approach book discussion in different ways, whether it is academic, pleasure-focused or even just your personal connection or reaction to the books.
A quick look on the internet will find a huge range of online book clubs catering for a variety of tastes and interests. Not only can you select the type of fiction you want to read – whether it is by genre, time period, "light" or literary – but you can also select book clubs by the type of discussion you want to pursue – whether it is just an enjoyable chat about the characters or a serious literary analysis of themes and allegories.
Another advantage of online book clubs is that they are generally "free" – in that there is no cost to join and no travel or catering cost – aside from the cost of internet access, which most people would incur anyway for other purposes.
Disadvantages of Online Book Clubs
The main disadvantage of online book clubs - like all electronic interactions – is that a large part of the intimacy and sincerity of personal communication is lost, as well as the nuances and subtle meanings of face-to-face communications. For example, there are no facial expressions or voice intonations to moderate the tone of a message or take the "sting" out of a possibly offensive post. Or even to clarify that a message was posted in the spirit of a joke.
In addition, the usual time lag between a message being posted and the same message being read leads to the an unintentional exaggeration of meaning and emotional intensity. Basically, messages often are easily misunderstood and the original intent misinterpreted. Often, what is regarded as a "flame" post is simply a message from someone who has strong feelings on a subject. However, if a hostile reply is then posted and the first member sees this and responds angrily, a vicious cycle is set in motion.
All this leads to unnecessary hostility, insults and emotional upsets – and often results in "flame wars" online where deliberately hostile or insulting messages are traded through the forum. This is encouraged by the fact that the Internet gives users anonymity and people are likely to behave more aggressively or anti-socially than in real life where fear of conflict and embarrassment can restrain impulses. Hostilities can escalate to the point where discussion threads will have to be "locked' or shut down and this is completely detrimental to a community created for the purpose of healthy discussions on books. A good online moderator can help enormously towards preventing such situations developing as well as a clearly stated non-tolerance towards "flaming" and such behaviours to all new members of the group.
The other problem with online book clubs is that there can be less control over the direction of discussions as no one can predict the content of posts from the members. Thus, discussions can easily go off-track and on tangents, unlike an "in-person" discussion where members might feel more obliged to keep to the topic of discussion and leave any personal anecdotes or related topics to afterwards. Again, a good online moderator can help to keep things on track – to remind people of the guidelines for discussion or even to remove any posts that are not relevant (although this can be a controversial policy).
Making sure that people have read the allocated books can also be a problem. In face-to-face interactions, the embarrassment of being the only one that has not "done the homework" can often be a good incentive to people reading the book within the specified time. However, with online book clubs, there is no "day of reckoning" and members can choose not to post messages and therefore are not obliged to take part in a discussion. This means that discussions can suffer from too few members participating and too small a range of opinions and perspectives.
Finally, aside from the communication problems, online book clubs lack the social dimension that characterises traditional book clubs and is the key reason many people join book clubs in the first place. It is not just a place to discuss books but also a place to meet possibly like-minded individuals and enjoy their company. With online book clubs – unless regular field trips or social gatherings are planned (and this could be impossible due to the geography of members), members tend to lose out on the social interactions which can be a valuable part of the book club experience.
You might also like...