Start a Book Club Blog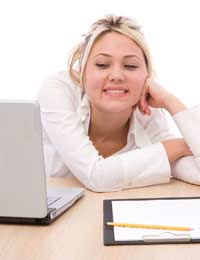 Blogging is all the rage, and if you're looking to either start a virtual book club or you already are a part of one (online or in-the-flesh), you can absolutely supplement it by setting up a members-generated blog.
Fortunately, blogs are inexpensive; in fact, most of the popular blogging services offer free-of-charge hosting to bloggers. So starting a blog will take very little time, though you should know the answers to the following questions before setting yours up in cyberspace:
What name do you want to give your club's blog?
If you are starting a book club blog solo, you can make up any moniker you'd like, from straightforward to downright wacky. But if you're already part of an established book club, it's critical to make sure you all vote on a name at the beginning of this process.
What is the purpose of the blog?
Many book club-type blogs on the World Wide Web have very specific purposes. Some are to review only new books and up-and-coming authors. Other blogs are devoted to talking about any and all books, from ancient texts to the most modern rap song lyrics. Still more blogs talk about a specific book each week.
Who will have the ability to post on the blog?
Because the blog is attached to a book club (i.e., a number of people), you are likely going to want to have more than one person gain entry to the inner workings of the blog so everyone can post at leisure. However, it is possible for a single individual to maintain control of this process by requesting that all information be sent to him/her. Again, there are pros and cons to each method of posting, so think it over before making a final decision.
How many posts will your book club blog have per week?
If you want to drive traffic to your book club blog from people across the globe, you'll need to maintain a steady pace in terms of posts. For instance, if you're only posting once every blue moon, you'll be unlikely to attract people to your blog. Therefore, it may be prudent to assign days of the week to book club members (if they'll all be posting and it isn't just you) to maintain a steady flow of information on your site.
Will you allow comments on your blog?
Most blogs allow visitors to post comments if they are so moved. However, this isn't a cut-and-dry proposition, as some blogs simply are not meant to engage guests in discussion. And remember that commenters are not always positive, so proceed with caution if you're someone who is ultra-sensitive and would be crushed by hearing something sarcastic or pessimistic on your book club blog.
Will you try to garner revenue from your book club blog?
There are many services that allow you to have ads on your blog, meaning that you could earn a small amount of money just by having a presence in cyberspace. But make sure that if you choose to allow advertisements on your space that you know in advance how you'll use the profits! Otherwise, book club members could become concerned that you're simply pocketing the cash while they are doing some of the work.
Good luck and have a great time exploring this wonderful way of getting the word out about both your club and the books you explore!
You might also like...
You feel disappointed with your family or you want to transform your family with God's wisdom you don't know what to do this is the solution #SAVE #THE #FAMILY, just one click below https://amzn.to/3cdiRkN Believe me you won't regret it!
Zako
- 11-Apr-20 @ 11:18 AM
Thank you. just thinking of starting a book club for entrepreneurs.
Mariam
- 23-Jul-17 @ 1:11 PM
@JenPen- Good for you - a blog can keep the momentum going between meetings too. You could try
WordPress
and
Blogger
- both are easy to use. You may also see courses advertised like this
Guardian one
.
TheReadingClub
- 14-Jul-14 @ 2:14 PM
HI there fellow readers! Ibelong to a small, chilled out book club of working 50 yr old "girls" and we thought it would be great to set up a blog so that we can chat about the books as we read them, and it's not all down to discussions on one night. Any suggestions on how to go about setting this up bearing in mind that we have very limited computing capabilities and it needs to be simple? Thanks in anticipation.
JenPen
- 13-Jul-14 @ 7:45 PM
Hello Petra. We're glad you've found this article so useful. Good luck with starting your own book club!
TheReadingClub
- 3-Jun-11 @ 2:01 PM
Thank you very much for a valuable information. I LOVE reading and I would like to start a reading club (blog). Your article about how to start and run a reading club gave me many ideas and pointers I have not thought about before and I found it very helpful. Petra
Petra
- 2-Jun-11 @ 12:15 PM
Thanks so much. I am running a children's reading non profit, and I find information on your site so helpful.
Mummy
- 11-May-11 @ 5:49 AM